We are the home of expert kitchen design services and the creation of custom cabinets in Auckland. Innovation and commitment to the highest industry standards are equally honoured in all of our tailor-made design projects.
About EuroKitchens Design
Our passion is a kitchen you adore! We create custom kitchen cabinets and affordable home kitchen interior design that balances inspired design with functionality and practical living. With over 20 years of industry specialisation, we offer you insight and expertise that transforms your kitchen design experience.
We ensure that the architecture is showcased to the fullest by elevating the space through interior design.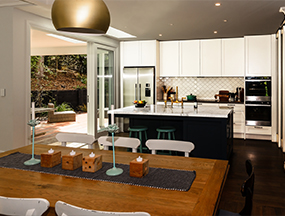 Timely and well-managed projects make for a more successful execution of our kitchen design services.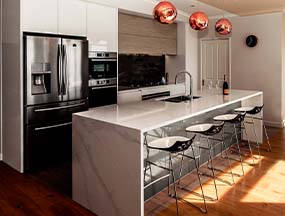 We use product design with purpose to create a kitchen that adheres to both function and beautiful aesthetics.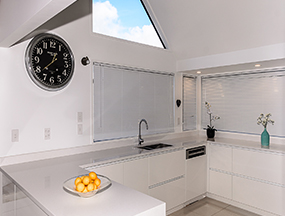 All our kitchen designs are bespoke and tailor-made to suit the individual home and project needs.
At EuroKitchens Design, we uphold the highest standards of industry requirements while being fully committed to the creation of a kitchen design that adopts both creative flair and innovative functionality in design. We value the balance between serviceability and aesthetics, and we are proud to deliver kitchens that meld these elements harmoniously.

Concept creation
From inspiration thematic to detailed design.
Design advisory
Decades of experience and shared insights.
Material selection
Design perfection using the highest quality materials.
Concept creation
Fully adaptable and managed project timelines.
We have perfected the process of offering our kitchen design services and creating custom cabinets in Auckland. Take a look at what you can expect when working with EuroKitchens Design.
Planning
Thorough and careful consideration of all design elements is conducted in close collaboration with the stakeholders.
Budgeting
We ensure that all the kitchen design elements adhere closely to the specified budget.
Staging
We deliver a kitchen that feels welcoming and fully completed, ready for use.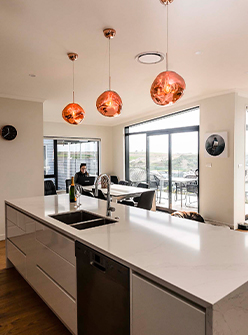 Feature Elements
We use design and focal attractions with insight and purpose.
Innovative Design
We create design features that transcend the 'norm'.
Tonal Insight
Our spaces honour the desired end experience above all else.
Intuitive Flow
We create balance and practical flow within the design of the space.
Attention to Detail
Every element of the kitchen design is carefully considered.
My house is 20 years old and desperately needed to be renovated. I went to various kitchen companies. I wanted quality, professionalism and excellent design. Boriana gave me all of this and more. Boriana came to my home, listened to all my requirements and communicated extremely well. She prepared the drawings and went through samples, etc. Boriana was absolutely amazing. My kitchen meets all my needs and included many practical features to make my life easier ie: shelves that come down to me, due to my short stature, also automatic cabinet doors that open, using top of the range accessories ie: Blum and Hafele. Other companies I approached had nice designs but no comparison when it came to quality. Everyone who sees my kitchen loves it! I can not speak more highly of Boriana and her team. I recommend her to all my friends and family. Look forward to working with Boriana again in the future.
Boriana designed and took care of every detail of our kitchen renovation. During the design process we appreciated her outstanding knowledge and the suggestions she provided us with and we were extremely happy with the final specifications she provided to us. We were also informed of any sub-contractor participation and she ensured every detail was completed to a very high standard. Nothing was ever a problem for Boriana , she always made herself available to us and any follow up required was immediate. She was a pleasure to work with, and exceeded our expectations I can confidently recommend Boriana as a Kitchen Designer and I would have no hesitation in using her for any further design work we may have in the future.
We bought a house that needs a lot of work. Boriana came to the place and gave us lots of different ideas what to do with the spaces. Very professional, understanding and arty. We are looking forward to work with her in near future.